..:Goat:..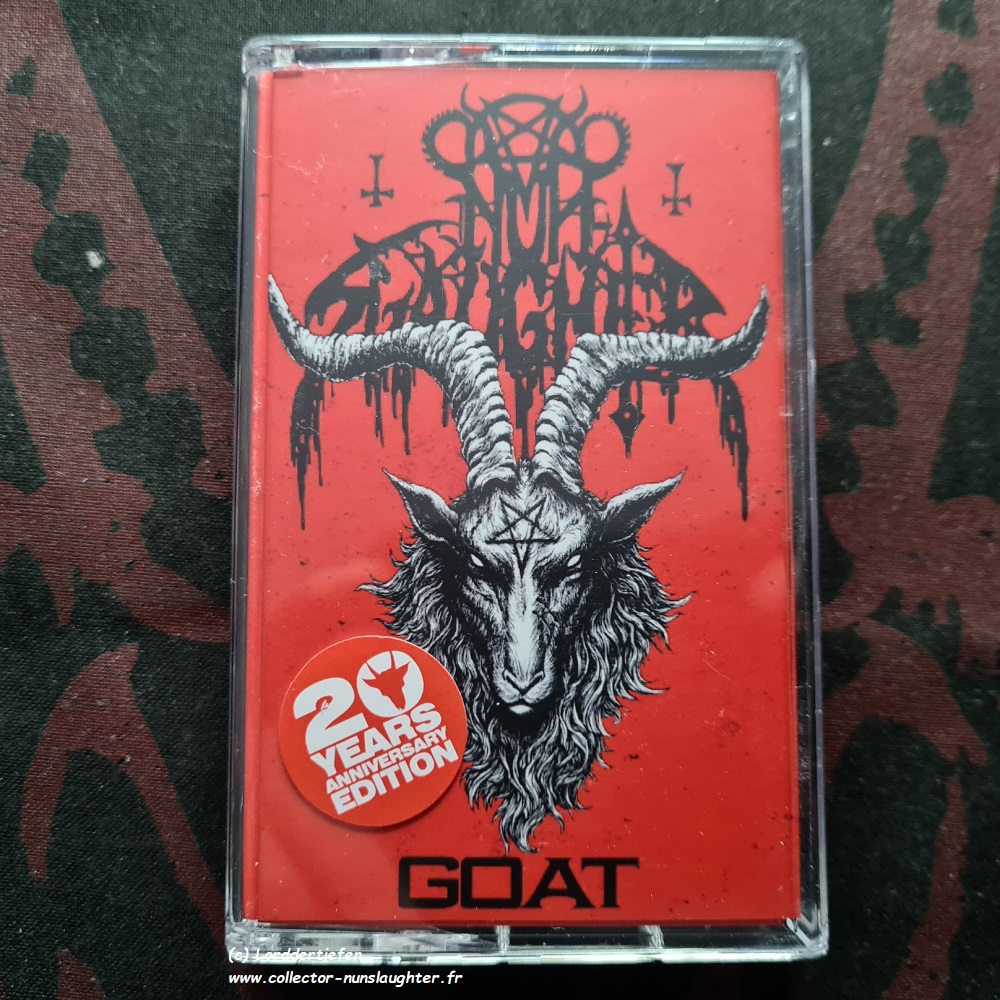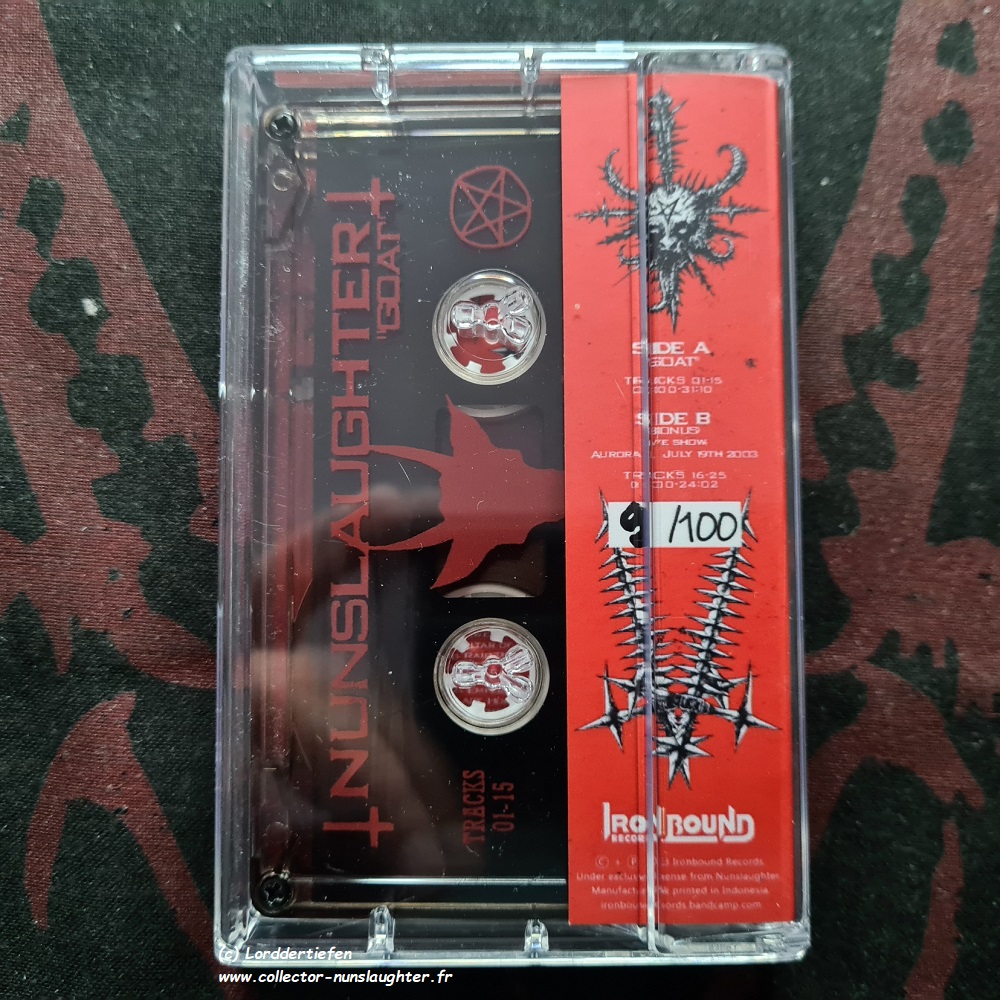 "Goat" un.produced by Don Of The Dead and Sadist "Thou Art In The Kingdom Of Hell" (Lyrics by Jeff Becerra). Recorded at Bechwood Studios by Brian "Beaker" Zietlow between May and August 2002 in Cleveland, Ohio. Mastered by Robb Carlyon at Aloha Studios in Honolulu, Hawaii. Logo by Chris McLean. Artwork by Rio Oscaryzm. Layout by Yoga Beges. Don Of The Dead - Vocals. // Sadist - Drums. // Duaniac - Guitars. // Grim - Bass.
- FORMAT -

Tapes Black Transparent

- DATE -

March 18th, 2023

- LIMITED -

#009/100 Copies

- LABEL -

Ironbound Records (Indonesia)

- CATALOG # -

IBRCS009

- NOTE -

Slipcase w/ Stickers.
Side A:

A1 - The Crowned And Conquering Hag. A2 - You Bleed. A3 - She Lives By Night. A4 - Sacrificial Zombie. A5 - Immune To Poison. A6 - Raid The Convent. A7 - As The Cacodemons Feast. A8 - Church Of Disgust. A9 - Satanic Slut. A10 - Ritual Of Darkness. A11 - The Guts Of Christ. A12 - Thou Art In The Kingdom Of Hell. A13 - Angel Hunt. A14 - The Sephiroth. A15 - Jesus Is Doomed.

Side B:"Live At Blitzkrieg Festival 2003, Riley's Rock House, Aurora, Illinois, United States, July 19th, 2003"

B1 - Power Of Darkness. (Live). B2 - Altar Of The Dead. (Live). B3 - Raid The Convent. (Live). B4 - Killed By The Cross. (Live). B5 - Ouija. (Live). B6 - Emperor In Hell. (Live). B7 - Black Horn Of The Ram. (Live). B8 - In The Graveyard. (Live). B9 - Devil Metal. (Live). B10 - Atheist Ways. (Live).
..:Differents Formats:..
| # | DATE | FORMAT | COPIES | MORE INFO |
| --- | --- | --- | --- | --- |
| | 2003 | CD | # | #"Metal War Productions" |
| | July 7th, 2003 | CD | 1000 | #"Revenge Productions" |
| | 2003 | LP | 381 | Black"Revenge Productions" |
| | 2003 | LP | 120 | White"Revenge Productions" |
| | July 22nd, 2005 | CD | # | Digipack"Hells Headbangers Records" |
| | October 31st, 2005 | LP | # | Black"Hells Headbangers Records" |
| | October 31st, 2005 | LP | # | Picture Disc"Hells Headbangers Records" |
| | May 26th, 2006 | CD | # | Edition w/ Embossed Card Slip Over The Booklet"Hells Headbangers Records" |
| | May 26th, 2006 | CD | # | w/ OBI"Hells Headbangers Records" |
| | December, 2006 | Tapes | 300 | Clear"In Coffin Productions" |
| | July 30th, 2011 | CD | 1000 | Digipack"NunSlaughter Records" |
| | January, 2012 | LP | # | Black, Test Pressing"NunSlaughter Records" |
| | January, 2012 | LP | 100 | Black"NunSlaughter Records" |
| | March, 2017 | Tapes | # | Silver"NunSlaughter Records" |
| | October, 2017 | CD | 500 | Silver"Soul Erazer Records" |
| | 2019 | LP | 22 | Black"Turanian Honour Productions" |
| | 2019 | LP | 22 | Clear"Turanian Honour Productions" |
| | 2019 | LP | 22 | Gold"Turanian Honour Productions" |
| | May 29th, 2020 | 2xLP | 400 | Red/Silver Swirl"Hells Headbangers Records" |
| | May 29th, 2020 | 2xLP | 100 | Black"Hells Headbangers Records" |
| | January 22nd, 2021 | Tapes | 400 | Black"NunSlaughter Records" |
| | June 14th, 2021 | CD | # | Digipack"NunSlaughter Records" |
| | July 28th, 2021 | Tapes | 100 | Red"FASMA Productions" |
| | November, 2021 | 8-Tracks Cartridge | # | Red"Hells Headbangers Records" |
| | March 11th, 2022 | CD | # | #"Tanatofobia Prods." |
| | March 18th, 2023 | Tapes | 100 | #"Ironbound Records" |