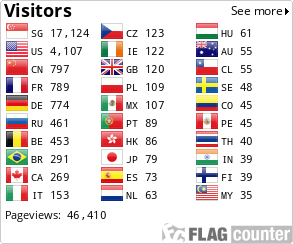 ..:Split w/ SABBAT:..Sabbatical NunSlaughter Goat Metal Assault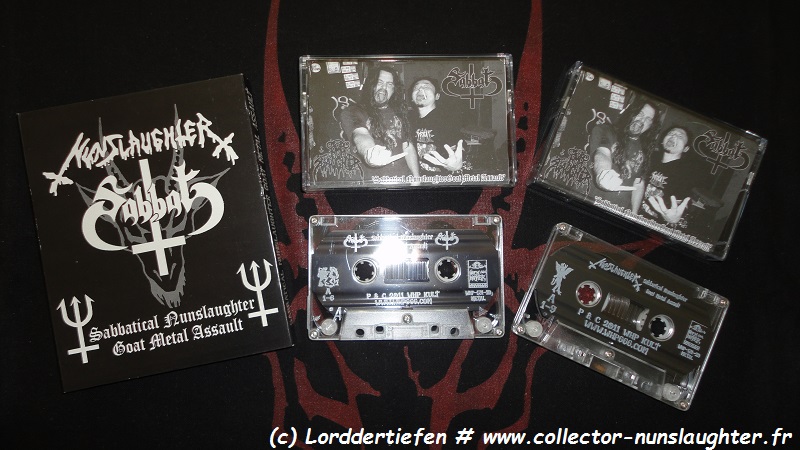 - FORMAT -
Double Tapes, Limited Edition to 300 Copies. #147/300.
- DATE -
October, 2011.
- LABEL -
Witchhammer Productions - WHP-131D.
- TRACKS -
Tape 1:SABBAT

Side A:

01-Matsuillusion. 02-Satan Bless You!! 03-Demonic Serenade. 04-Brothers Of Demons. 05-Crest Of Satan. 06-Hellfire.

Side B:

01-Prelude Of Sabbat. 02-Immortality Of The Soul. 03-Bowray Zamurai. 04-Satan Bless You!!. 05-Audience. 06-Evil Nation. Tape 2:NUNSLAUGHTERLive at THE ASTERISK Tremont, Oh (July 9th 2003)

Side A:

01-The Crowned And Conquering Hag. 02-Death By The Dead. 03-Emperor In Hell. 04-Phantom. 05-She Lives By Night. 06-Obsessed With The Visions Of A Satanic Priest. 07-Power Of Darkness. 08-I Am Death. 09-Ouija.

Side B:

01-Midnight Mass. 02-In The Graveyard. 03-Cryptic Aeon. 04-It Is I. 05-Killed By The Cross. 06-Satanic Slut. 07-Atheist Ways. 08-Raid The Convent. 09-Mother, Cunt, Whore.
- NOTE -
Thank You Very Much @ "Triple Six Thailand" for this copy.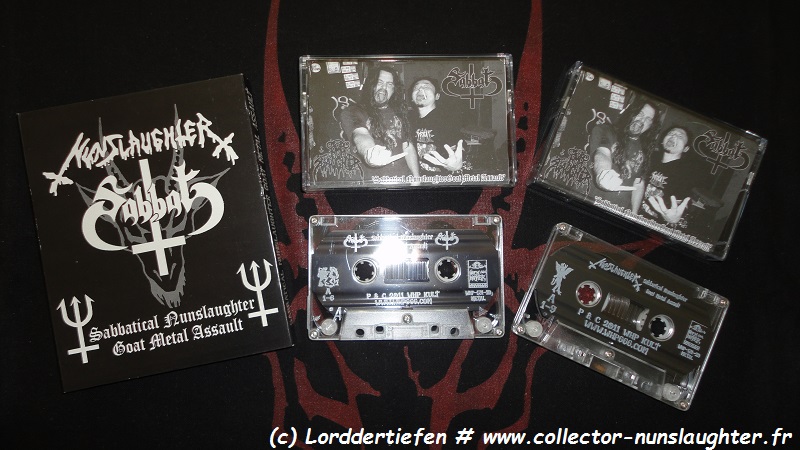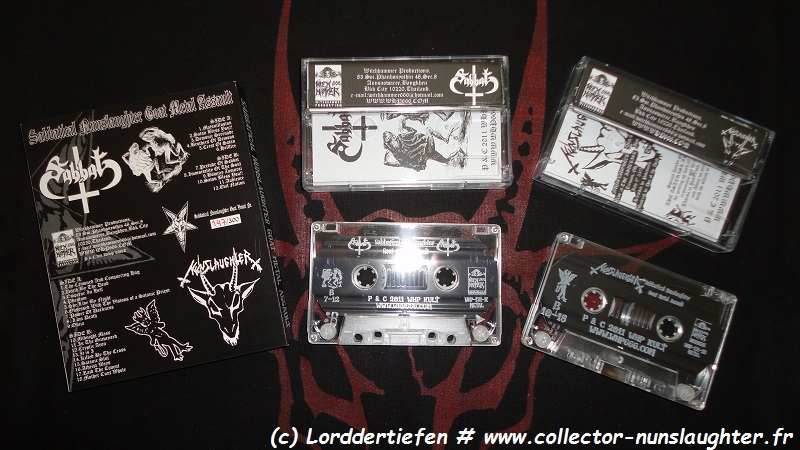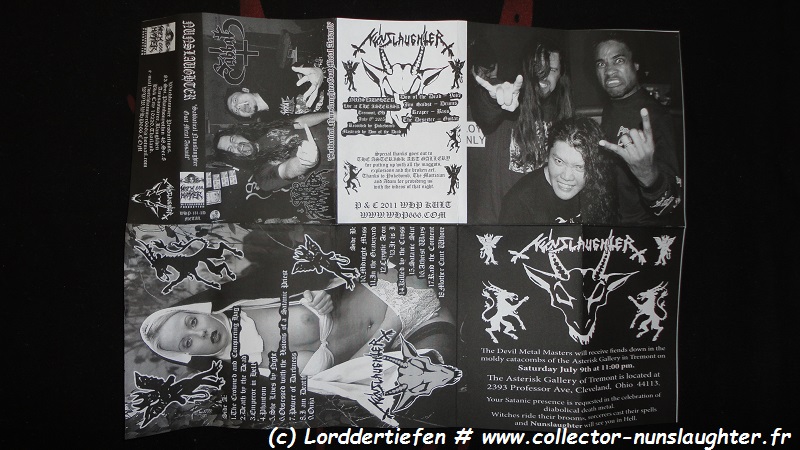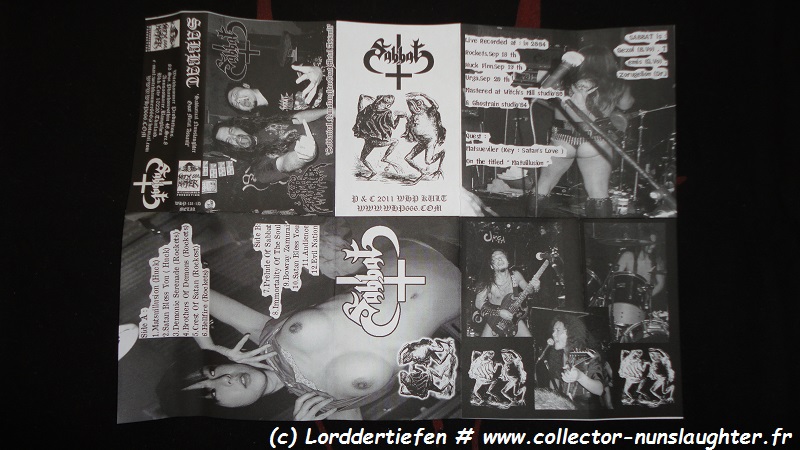 ..:Differents Formats:..
| # | DATE | FORMAT | COPIES | MORE INFO |
| --- | --- | --- | --- | --- |
| | June 06th, 2010 | LP | 10 | Black, Test PressingEvil Hellbangers 1"H.M.S.S. Records" |
| | June 06th, 2010 | LP | 172 | Black, Regular VersionEvil Hellbangers 1"H.M.S.S. Records" |
| | June 06th, 2010 | LP | 42 | Black, Staff VersionEvil Hellbangers 1"H.M.S.S. Records" |
| | September, 2010 | Dble 7EP | 08 | Black "Boxset", Test PressingEvil Hellbangers 2"H.M.S.S. Records" |
| | September, 2010 | 7EP | 214 | BlackEvil Hellbangers 2 "Disc 1""H.M.S.S. Records" |
| | September, 2010 | 3x7EP | 210 | Black "Boxset", Regular VersionEvil Hellbangers 2"H.M.S.S. Records" |
| | September, 2010 | 3x7EP | 210 | Black "Boxset", Die-Hard VersionEvil Hellbangers 2"H.M.S.S. Records" |
| | October, 2011 | Dble Tapes | 300 | Sabbatical NunSlaughter Goat Metal Assault"Witchhammer Productions" |