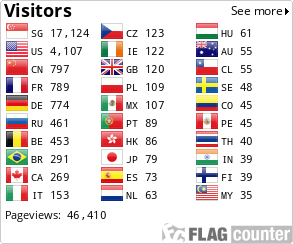 ..:Live In Paris:..(France 2009/03/21)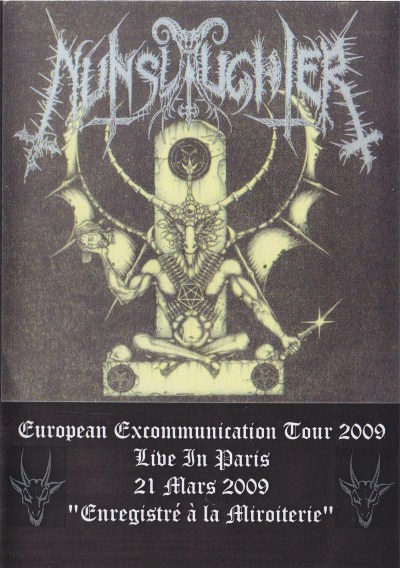 - FORMAT -
DVD Bootleg, Limited Edition.
- DATE -
March 21st, 2009.
- LABEL -
Spider Productions.
- TRACKS -
01-Emperor In Hell. 02-Death By The Dead. 03-Obsessed With The Visions Of A Satanic Priest. 04-Blood For Blood. 05-Midnight Mass. 06-The Fucking Witch. 07-As The Cacodemons Feast. 08-Killed By The Cross. 09-Cryptic Aeon. 10-Power Of Darkness. 11-Hex. 12-Raid The Convent. 13-Sacrificial Zombie. 14-Satanic Slut. 15-Black Horn Of The Ram. 16-Atheist Ways. 17-I Am Death. 18-Smell The Burning Churches. 19-Church Bizarre.
- NOTE -
The song 'HEX' is especially dedicated to me (for my birthday). Thank You Very Much NunSlaughter for the great moment.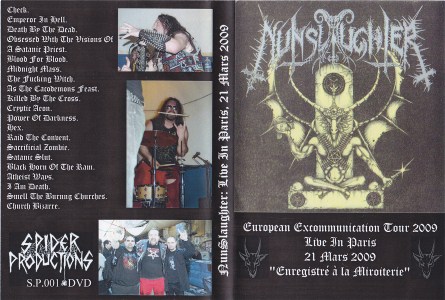 ..:Differents Formats:..
| # | DATE | FORMAT | COPIES | MORE INFO |
| --- | --- | --- | --- | --- |
| | March 21st, 2009 | CD | # | Bootleg"Spider Productions" |
| | March 21st, 2009 | DVD | # | Bootleg"Spider Productions" |